There are many different reasons why you might want to leverage influencers for your holiday campaigns. Deciding your goals is always the first step in choosing those influencers. Perhaps you are seeking to boost awareness of your brand. Therefore you look for reach in the influencer's audience. Maybe your goal is to convert sales, and to focus on a specific audience and an influencer with strong engagement. Here's the big secret to influencer marketing: the sweet spot is when you can find an influencer and can do both things in one simple post. Of course by now we have learned that engagement is more important than reach, but who says it has to be one or the other?
Here are some of our favorite influencers that will help you succeed in awareness AND engagement this holiday season.
In Style
Influencer marketing on Instagram at times may seem like a female dominated industry. And although the women fashion influencers kill it on Instagram we can't forget about the men focusing on style as well. John is a Chicago based influencer that focuses on photography and travel all while showing off some incredible style. His work on both sides of the camera to create amazing content has earned him over 82k followers.
2. Coco Bassey
Where a lot of fashion influencers simply post their outfit of the day, Coco goes above and beyond to create a very aesthetically pleasing page with her own distinct style and photographs which has made her stand out from others and earned her over 59k followers. And, despite this large reach, she has maintained great engagement with her audience.
In Food
3. Cade & Carrian/Ohsweetbasil

This husband and wife team give us some drool-worthy food photos on their Instagram. From desserts to snacks to full family sized meals Cade and Carrian are expert food bloggers and trusted by their audience of 73k followers. Along with the beautiful food images they also take advantage of Instagram videos by creating one minute recipe videos of some quick and easy meals. Cade and Carrian will definitely have you stepping up your cooking game this holiday season.
4. Erin/Naturallyella
Scrolling through Ella's page will inspire you to get in the kitchen and to get healthy. She makes vegetarian lifestyle look oh so good. This California based cook posts recipes on her account daily! Ella is also a photographer and the author of a cookbook. Her blog contains healthy recipes and vegetarian meal plans. Ella's beautiful photographs and vegetarian based meals have inspired all 84k of her followers.
In Travel
5. Oneika/Oneikatraveller
Oneika is a travel journalist and host on the Travel Channel. Her passion for travel and culture has taken her to over 100 countries, which she documents on her blog. Some of her main topics include travel tips, the places she's been, and life and style. Oneika's personality and commitment to her page have gained her a loyal following of over 31.7k followers whom she inspires and motivates everyday to get out and explore.  
6. Olga Maria/Dreamsinheels
Where a lot of travel bloggers accounts can come off over-edited and unrealistic, Olga's Instagram has a more real and authentic taste to it. Although her focus is travel, she also covers style, beauty, food, and drink. Her broad range of interests has earned her over 24k followers and counting! She also has her own travel blog and even started the bilingual travel community latinaswhotravel.
In Family and Lifestyle
7. Liz Adams
Fashion, food, home, travel, and motherhood — all things to be inspired by from Liz Adams Instagram page. Her sense of fashion, adorable family, and lifestyle in general have gained her well over 100k followers on Instagram. She has also earned a loyal following on her blog sequinsandstripes and it's not hard to see why.
8. Mattie James
Mattie James is so much more than just a style and fashion blogger. This Atlanta based influencer has become a strong voice to her audience through her Instagram and blog. James writes all about her life and how to find balance between yourself and your family as well as what it takes to make it in the business of being an influencer. From beauty to cooking to health, there is nothing you won't find from this influencer.
In Home
9. Kim & Scott/YellowBrickHome
Kim and Scott are a husband and wife duo that are sharing their story of home renovation in Chicago. Their focus on DIY renovations and incredible home decor have earned them quite the following of over 31k. It's not hard to get home envy after viewing their page. And even if the home decor doesn't interest you, their two dogs are reason enough to give them a follow.
In Health
10. Remi Ishizuka/rrayyme
What makes Remi's account so appealing is her balance between fitness and health. Between her workouts and healthy meal plans she also posts about beauty, style, and travel. Her blog was nominated for the best fitness blog of 2016 and it's well deserved. With the new year approaching what better time to focus on health and fitness.
In Beauty

11. Amanda Walker
Amanda is a Miami based beauty influencer and YouTuber who between the two channels has over 135k followers. Her beauty videos range from makeup for a night out, to how to achieve more natural looks. More than just makeup she also focuses on skincare, lifestyle, fashion, and fitness. And anyone out there who is looking for tips on curly hair, she has you covered!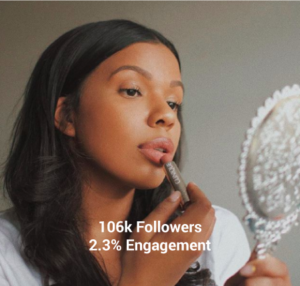 12. Tyla Gilmore – tylauren
Hair, clothing, makeup, there is nothing beauty related you won't be able to find on Tyla's page. A New York City based influencer, Tyla has gained an incredible audience with whom she shares her favorite products and looks for every time of the year. On top of that, her vibrant and relatable personality has helped her audience grow tremendously in the last year and has put her on the way to becoming a huge influencer.
In Adventure
13. Rachel Moore
Anything adventure you are looking for, Rachel has it. Travel, camping, hiking, van-life, scuba-diving, climbing, etc, you can find it on her page. This Cali-based adventure influencer will have you feeling more and more envious with every post and have you booking your next adventure in no time!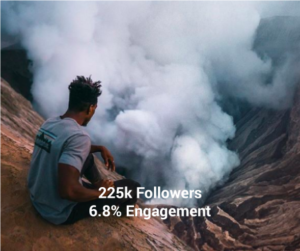 14. Karl Shakur
Surfing through Karl's page looks more like a dream than reality. It's not hard to see why he has garnered over 225k followers. The places he finds and his incredible photography skills are reason enough to give him a follow. It appears everyday he is at another corner of the earth and we love to live vicariously through his beautiful images.